Chief Technology Officer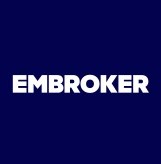 Embroker
Software Engineering, IT
United States · Remote
Posted on Tuesday, May 2, 2023
Who we are at Embroker
Embroker is the radically simple destination for industry-tailored commercial insurance. Our mission is to make it radically easier for businesses to get the right coverage at the best price. With a technology-first, customer-centric approach, Embroker is changing how businesses protect themselves, their staff, and their customers. In 2015, Embroker has raised over $150M in funding from leading fintech investors.
POSITION CAN SIT REMOTELY ANYWHERE IN THE US.
You can see more about our tech stack on: https://stackshare.io/embroker/embroker
The value of this position

For this role, we are seeking a relentlessly curious and outstanding Chief Technology Officer who can
lead Embroker through its next phase of growth to help with a fast-paced and highly dynamic environment.
This role needs to be an experienced role model that embraces uncertain changes and leads to execution with business outcomes.
In addition to deep program management experience, the ideal candidate will have program management experience in the
software industry and experience working in a fast-paced, dynamic environment with minimal guidance.

What you will own in this role
● Setting a vision for how technology will be used in the company
● Ensuring that technological resources meet the company's short and long-term needs
● Develop technical aspects of the company's strategy to ensure alignment with its business goals
● Ensuring that technological resources meet the company's short and long-term needs
● Develop technical aspects of the company's strategy to ensure alignment with its business goals
● Making executive decisions on behalf of the company's technological requirements
● Creating timelines for the development and deployment of all technological services
● Discover and implement new technologies that yield a competitive advantage
● Help departments use technology profitably
● Supervise system infrastructure to ensure functionality and efficiency
● Build quality assurance and data protection processes
● Monitor KPIs and IT budgets to assess technological performance
● Maintaining a consumer-focused outlook and aiding in the delivery of IT projects to market
● Use stakeholders' feedback to inform necessary improvements and adjustments to technology
● Communicate technology strategy to partners and investors
The experience we believe is the right fit
● Proven experience as a CTO or similar leadership role
● Knowledge of technological trends to build a strategy
● Deep understanding of how to build and integrate system with various technology components
● Experience working with third-party companies that Embroker integrates with and providing
regular improvements to this process
● You can quickly learn, understand, communicate, and integrate technical concepts and issues
● Excellent leadership, cross-function facilitation, and program management skills to work and
coordinate with different functional teams are required to be successful in this role
● Excellent verbal, written, and presentation communications skills, organizational capabilities, and
collaborative interpersonal skills
● You have the utmost passion for attention to detail and high focus on quality and operation
efficiency
● The ability to thrive in a highly collaborative and fast-paced working environment.
● Excellent written communication skills with a focus on translating complex issues into simple,
easy-to-digest documents.
● Self-directed with the ability to think strategically and execute tactically; attention to detail and
proven ability to manage multiple competing priorities simultaneously.
● Understanding of budgets and business-planning
Our Values
The Embroker Pack lives by three core values that have taken us from an idea to a growing, well-funded player in the Insurtech space.
Pack First
We succeed and fail as one team. We optimize for what is best for our entire organization. We always assume positive intent.
Be All-In
We are 100% committed. We move fast and are proud of what we build. We attack challenges with relentless positivity.
Create Magic
We strive to amaze and delight at every touchpoint. We make our work fun through teamwork, play, and positive energy.
We believe that systemic structures and practices disproportionately disadvantage the most marginalized people in society — including people of color, people from working-class backgrounds, women, and LGBTQ people. We believe that these communities must be represented and included in the work we do to make our Pack stronger and more creative, and improve the way we do business. We strongly encourage applications from people with these identities or members of other marginalized communities.